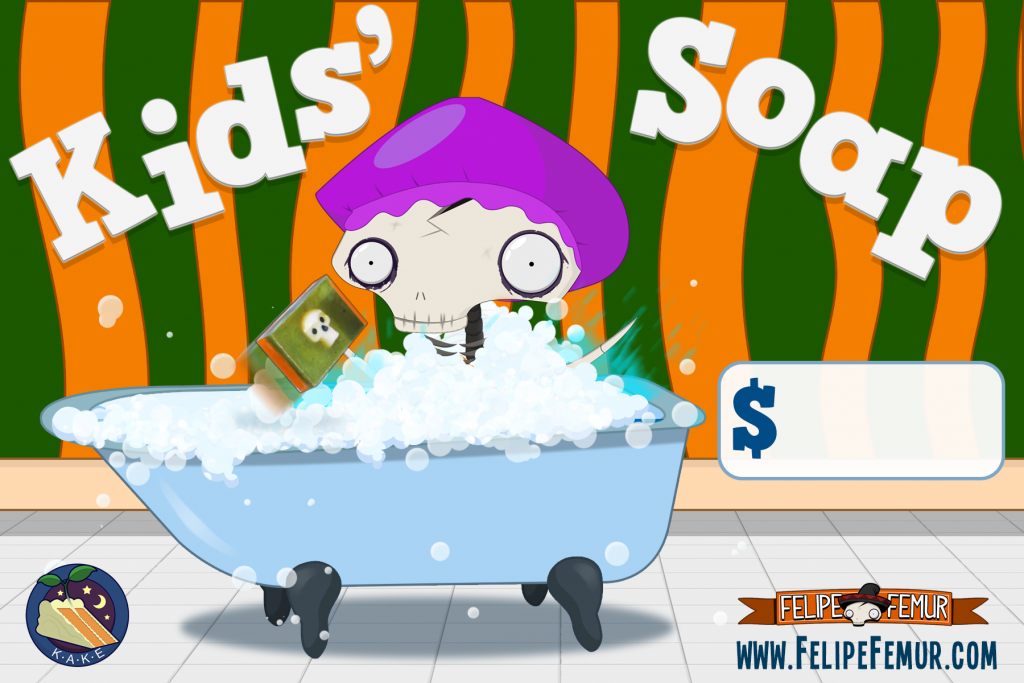 Felipe Femur has teamed up with K.A.K.E to bring fans a children's soap. The name of the soap is Frightful Fruit and it features a skull just like Felipe Femur's. The soap is scented in a sweet fruity mix of several fruits and is green and orange in color with a white and black skull in the center.  It's perfect for Halloween to make the bathtub a little spookier or as a nice hygienic "treat" for a friend. The skull is detailed with black pupils a black nose hole and wrapped in decorative paper and hemp cord. Each bar of soap is handcrafted with care and inspected for quality several times before being released for sale. The soap can be purchased on the K.A.K.E. website for a competitive price or in the shop location that is to be selected in the near future in Quincy, CA.
K.A.K.E. is an independent up-cycling company that creates handmade gifts, including soaps, candles, lip balms, bath bombs, sugar scrubs, scented wax cubes, aromatic sprays, and more. K.A.K.E. is made up of two longtime friends, Katelyn and Keely, the first two letter of there names being where the name K.A.K.E. comes from. The pair have both developed autoimmune disorders in the recent years. They are both creative souls and strive to make sustainable products aimed at making consumers healthy and happy. The duo use their health issues as their inspiration to work as hard as they can to help anybody that they can. For Keely and Katelyn, this comes through products aimed at relief and simple joy. They focus on products with health benefits and what's better for health than a good scrub with all natural soap? Give the soap a try and support a good cause.
As the K.A.K.E. slogan goes: Make life sweet again! Or in Felipe Femur's case, should you be reading this from his side of the grave, make the afterlife sweet again!